It is the best filling in the morning when you was a child receiving your stocking hanging on your door and it being filled with lots of little treats all wrapped up. When you get older though, stockings are still as exciting as you can get bits of things of someone that they know you like and have thought about when buying them for you, just bits and bobs of things you will appreciate. Buying things for someone's stocking without going overboard and spending to much can be hard as there's so many little gifts and trinkets out there. In the guide most things are £10 and under, then there's two presents which just sneak over the £10 mark and then there's one that's a little more pricey but its a gorgeous gift and is extra special!
So this gift guide has ten little gifts which I think would be perfect things to fit into a stocking:
1. Okay starting off chocolates from Thornton's:
Everybody loves chocolates and personally I think Thornton's is the best for providing such wide variety of treats and chocolates. These bags are so nice and are £2.99 or if you buy two bags are 2 for £5. I think there just nice little bags and they come in literally every chocolate. An alterative of these ready made bags is that you can buy the chocolates from the display where you can mix and match as many or as little chocolates as you want, so can choose from all the different chocolates to give the person who the present is for a few different chocolates. These are great for anyone of any age!
2. Thisworks is a brilliant brand and I have tried this actual miniature pack. The mini deep sleep pillow spray contains a peaceful blend of Lavender, Vertivert and Camomile essential oils for relaxation, while mini deep sleep stress less aromatherapy roller encourages clear breathing for a deeper sleep. Its a really nice little present to pop in a stocking and its a perfect size for travelling and just for people to try to see if the products actually helps them to sleep. The combination of these are great as the you can smell the spray on your pillows to help you relax and the roller just makes you feel chilled and helps you to breathe clearly. It is £10 for this little set, you can also give this to females or males so if your struggling for ideas I recommend this.

3. Impulse is a massively popular brand over here in the UK and there body sprays always smell so amazing. This little set called - the Impulse Lovely Little Tin Set is so cute. It contains 3 miniatures and as the name suggests come in a miniature tin to keep them all in. The scents of the sprays are: Very Pink, Loving Words and True Love. The set is just £5 and can be bought at Boots where they have 3 for 2 across all there Christmas gifts. I think these are good for girls all ages but they are something I think a older girl or teenager would really appreciate because the smells are always nice and its just a nice little set and they can just pop one in their school bag.

4. The Baylis and Harding Beauticology Mini Trio is another little present which I think everyone would like and appreciate and I have to say I think it is a bargain at £4. It contains a shower crème (100ml), body wash (100ml) and a soap (100g). All the products in the stock fillers are miniatures just for the fact that unless you have a huge stocking its best to just pop miniatures in them. This is another body set which will be really appreciated and the scents of the products are lovely and calming. I would recommend to give this to any age woman to be honest, its just an all round nice little set to experiment with the brand and see if you like there products.
5. Space.NK is usually a very luxurious shop for 11 months of the year but at Christmas they bring out some nice little Christmas presents from the brands that they sell, one being the Little Bell by Aromatherapy Associates. The Little Bell is called the Revive Morning and has a miniature bath and shower gel in it. The scent is grapefruit, rosemary and juniper and smells gorgeous. It says that this will last you for 3 showers or baths but I think it would last me about 5 unless you like to really lather up or like a lot of bubbles and this costs £12.
6. I think a candle is a lovely lift gift to pop in someone's stocking now this is a little pricey for a stocking but I think its really, really lovely. Its a Jo Malone candle and my god do they smell amazing. This one is Pomegranate Noir and is my favourite is this miniature candles which they have out at the moment. There's three to this collection, the other two scents are Red Roses and Lemon, Basil and Mandarin. They all smell nice and I think you would definitely be able to find one which you think someone would love. They are £22 but compared to the usual £39 I think its a nice, little present which would be really appreciated if you was a candle lover.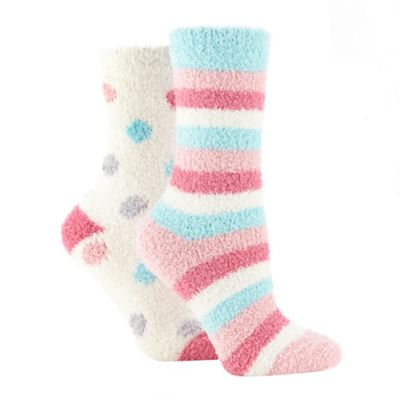 7. Now cosy socks are always an essential in a stocking its just a nice little present that's practically traditional in my household to get a nice new pair of cosy socks. I really like these sock there from Debenhams there £6 for both pairs but currently have 20% so there only £4.80 which is a great price for two pairs. There wintery as they've got snowflakes on the top of the socks and there all fleecy and cosy for them freezing days which are heading our way over the winter months.
8. The Body Shop always have such nice novelty presents at Christmas and this year they have not disappointed! They have these cute little mini cupcake gift sets which are only £5. They come in two different sets the strawberry one which contains strawberry mini heart soap 25g, strawberry shower gel 60ml and 2x crinkle bath lily – red. As well as the Chocomania set which includes Chocomania mini heart soap 25g, Chocomania shower cream 60ml and 2 x crinkle bath lily – orange. These are just nice little additionals to finishong off a stocking.
9. Caudalie is usually a luxury brand but this Christmas they have brought out some really lovely little gifts. This hand cream trio set costs £12 which I think is really good value. The scents of the creams are Grapevine Honey, Blackcurrant Leaf and Pink Grapefruit. All the scents sound appealing to me and I am dying to try them myself. Miniatures at Christmas are just perfect for you to be able try a few different scents and textures and discover exactly what you like without spending a lot on one bigger product and not liking it.
10. Topshop have brought out these Christmas mini nail varnishes which come in packaging which you can pop on your tree like a bauble. The colours which they come in are Jem (red glitter), Brazil (silver glitter), Dark Knight (blue glitter), and Magpie (gold glitter). They are £5 each and are really nice presents for someone who is a nail varnish lover. I usually like the formula of Topshop nail varnishes they have a good consistency and these are extra glittery for Christmas. These are just perfect for a last minute extra to pop in the stocking to make it extra girly.
So there we are my favourite ten picks for stocking fillers. I hope you have all found this useful and can take some ideas away with what you want to put in your stockings this year.
Its beginning to feel a lot like Christmas...
Lucy
xoxo
All Products mentioned:
http://www.thorntons.co.uk/thumbnail/Chocolate-Toffee-Fudge/Bags-of-Chocolates/pc/2198/2201.uts
http://www.thisworks.com/bestsellers-1/dream-team.html
http://www.boots.com/en/Impulse-Lovely-Little-Tin-Gift-Set_1390117/
http://www.boots.com/webapp/wcs/stores/servlet/ProductDisplay?storeId=10052&productId=1363312
http://uk.spacenk.com/little-bell/MUK200011219.html?start=26&cgid=SPUK20414&pmin=0&srule=By%20Review%20Rating&pmax=25
http://www.jomalone.co.uk/products/3562/For-The-Home/Travel-Candles/index.tmpl
http://www.debenhams.com/webapp/wcs/stores/servlet/prod_10701_10001_081010746386_-1
http://www.thebodyshop.co.uk/christmas/for-the-kids/strawberry-mini-cupcake-gift.aspx
http://uk.spacenk.com/hand-cream-trio-set/MUK200011230.html?start=2&q=fragrance&cgid=SPUK101&pmin=10&srule=price-low-to-high&pmax=20
http://www.topshop.com/en/tsuk/product/gifts-481/mini-nails-in-jem-2410795?refinements=Price%7b2%7d~%5b0%7c10%5d&bi=1&ps=200