I have picked out the best of Boots gift sets for this year to share with you. There all from a variety of makes and are all included in Boot's annual 3 for 2 Christmas offer.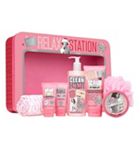 Soap & Glory Relaxstation Gift Set - £20.
Complete with the scrub of your life body buffer, clean on me clarifying shower gel, and mini sizes of hand food hand cream, heel genius foot cream, and the righteous butter dry skin formula body butter and a super suds-making shower puff and hair turban.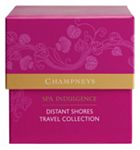 Champneys Spa Indulgence Distant Shores Travel Collection - £12. Champneys prestigious spas are among the finest in the world, with a rich heritage in health and beauty. The collection is inspired by ancient rituals and includes body scrub, shower mousse, bubble heaven and a body butter. All the products are 50ml and the scents are a blend of grapefruit,
lemon, orange peel and cedarwood oils.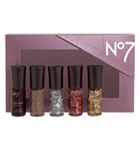 No7 Nail Glitter Collection - £10.
Sparkle and shine this party season with the No7 Nail Glitter Collection! This gorgeous selection will add that wow factor and make sure you've got the best nails around. The set includes five different colours which are all glitters and just perfect for this festive season.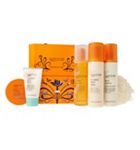 Sanctuary Sublime Spa Time Box - £18.75. The set includes:
Body Butter (100ml), Body Wash (250ml), Heel Balm (75ml), Foaming Bath Soak (250ml), Body Lotion (250ml) and Spa Skin Body Polisher. This is a great set as it has a selection of everything and Sanctuary is such a well known and well loved brand you can rely on the quality of the products.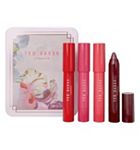 Ted Baker Lips Made for Kissing is £15.
This lovely set of 4 Ted Baker Lip Crayons will leave your lips looking delicious. Its got really lovely packaging as it comes in a decorative pink tin which pulls the present nicely together. It includes a nice bright red, a pale pink, a brighter pink and a plum purple colour which can be worn day to night.
These are my favourite picks of Boots gift sets this year. I hope all you last minute shoppers find some inspiration or you who though you had finished reach to buy that 'final' present.
http://www.boots.com/
Lucy
xoxo